Pharmaceutical artworks & packaging design –
Specialists in providing pharmaceutical packaging artworks for the pharmaceutical, biotech and healthcare industry
---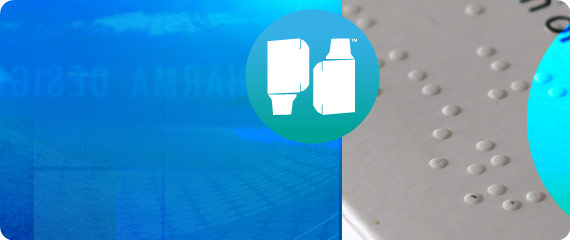 ---
Pharma Braille requirements for pharmaceutical labelling and medicinal products
From 30 October 2005 requirements for Braille to appear on the labelling and in the patient information leaflet of all medicinal products for human use were introduced under Article 56(a) of Council Directive 2001/83/EC (as amended).
The name of the medicinal product, as referred to in Article 54 a must also be expressed in Braille format on the packaging.

Directive 2001/83/EC as amended by Directive 2004/27/EC, Article 56 a, European Commission
---
Implementation of Braille in pharmaceutical artwork files
Braille on primary and secondary pharmaceutical and medicinal products has long been a standard requirement. Pharma Design have been creating pharmaceutical artworks long before Braille was a standard requirement. We were also implementing pharma Braille into pharma artworks at the early stages prior to any of the now established guidelines.
Our pharma clients benefit from our years of experience knowing that we implement pharma Braille correctly and is included as part of our QA processes. We can handle translations required, including multi language and EU Braille implementation.
---
Artwork designed with Pharmaceutical Braille Standards
As part of our Quality Assurance at Pharma Design, we implement the generation and application of Braille to recommended printing criteria and industry legislations. We comply with the Marburg Medium specification which has been recommended by the European Commission and Royal National Institute of Blind People (RNIB).
---
External Pharmaceutical Braille links and resources